This software is a must have for you fitness goals. Along with this great program, you will have the constant feedback of a certified fitness professional to keep you on track.
GET WELL, STAY WELL
We are constantly being told that a pill or miracle cure is going to fix what ails us. If it's poor health, stress, anxiety we are told to chase that elusive 'miracle cure' instead of discovering the source of the problem. Choose from existing wellness factors or create your own. Track these wellness factors on a daily basis to discover trends and reasons for your motivations and performance.
ROUTE BUILDER
Record, Document, and Analyize your routes MFC Personal Web Edition will help you create and achieve your health and fitness goals. The convenience of having access to your training log and nutrition diary from home, at the gym or on the road makes this program a fantastic way to keep track of your progress. Create your routes Track Your training routes and document changes. View your progress through our many reports and charts. Share and exchange different routes via route exchange Change and modify your routes. Copy, edit or delete as needed.
Make your Training Plan and See Results



Create your personalized training plan, record your results and then analyze them. Use our defaut fileds such asDistance, Time, Pace, Calories burned etc. or create your own to match your activities. It's as simple as selecting an exercise, entering a time or duration and then saving to your calendar.
Select your exercise from our library of training and sport templaes or create your own.

Make long term planning and scheduling quick and easy

Compare your performances

Summarize your distances

Record your Heart Rate Information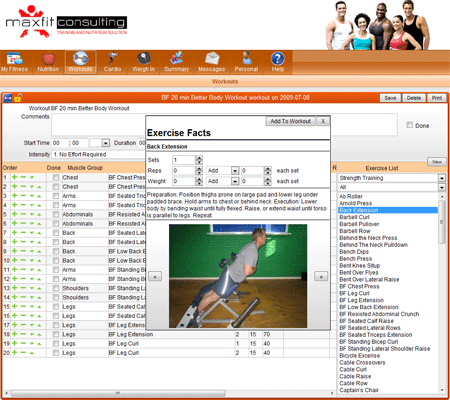 How are you performing?
By monitoring your training habits and allowing a professional to direct you, Max Fit identifies areas you need to adjust your workouts for to fit your goals.
Let Max Fit set your workout goals or enter your own. Choose whether to prefill weights when scheduling workouts. Workouts are created based on your training purpose, goal, experience level, strength, schedule and lifestyle.
Adjust your style of training

Create & schedule quality, accurate, individualized workouts for any level.

Schedule multiple workouts per day

Includes entry leveil up to advanced workouts- each can be easily modified and adjusted by your coach

Add and modify strength training exercises
YOU ARE WHAT YOU EAT!

Setup the Daily Meal Schedule to match your own. Select a meal, and then easily find foods in our Nutrition Library from our large selection of foods. View the Nutrition Facts as you add your Foods, Meals and Recipes to your Daily Meals.

Enter your nutrient totals and charts change in real time showing such useful information as calories, protein, fats, carbohydrates, cholesterol, sodium (120 nutrients) as you add foods to your meals.

Watch the number and percentage of calories and grams from fat, protein, carbohydrates and fiber on the Macronutrients. Compare your actual intake values to your goals and see the difference.

Save frequently recorded foods as your Favorites to find even faster next time.